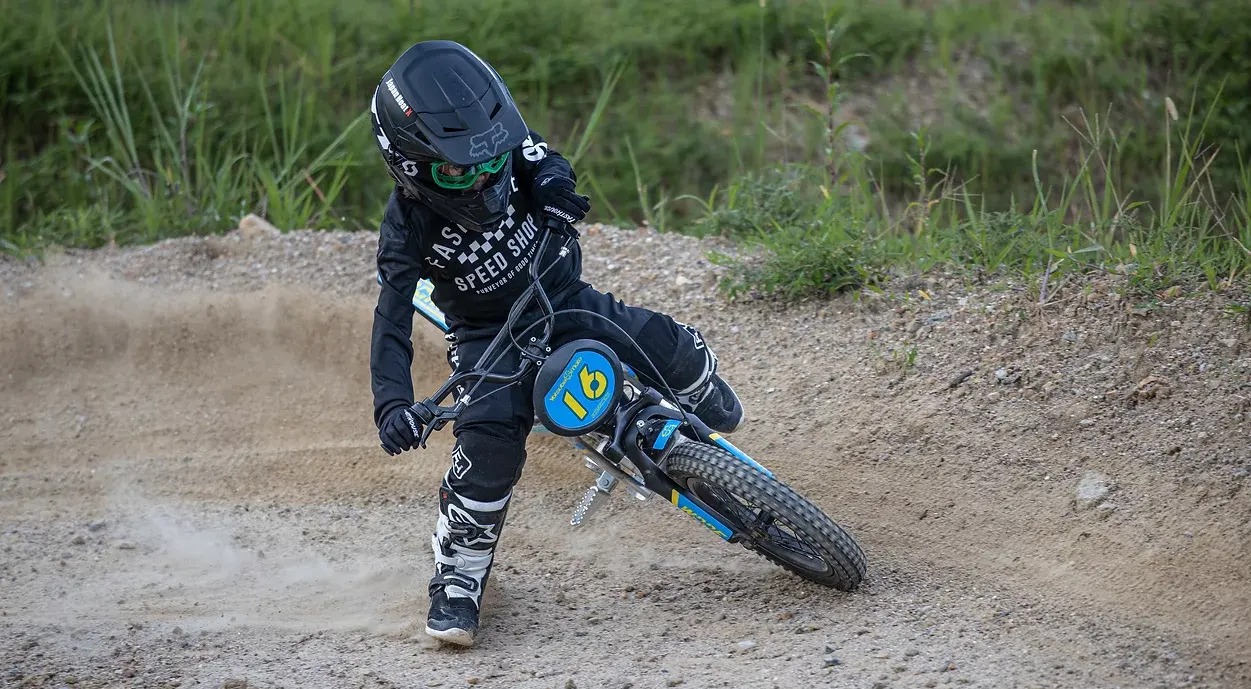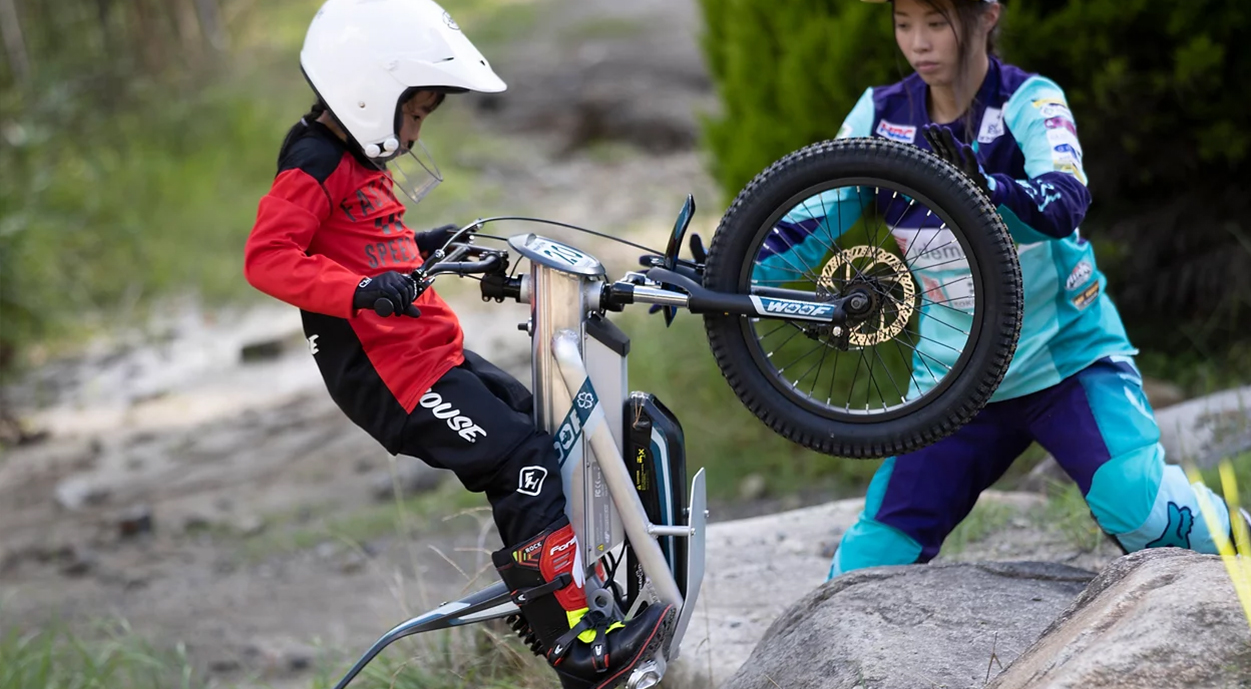 Indulge in play!!
A new breed of Yotsuba Moto is born. Its name is WOOF. It is equipped with 48V 750W (max. 1500W instantaneous), aluminum frame, front and rear suspension, and disc brakes for more serious riding. Furthermore, by changing the swingarm mounting position, it can be converted into two dimensions (motocross and trial), allowing the rider to experience a variety of riding styles with a single machine. Of course, the Yotsuba Moto spirit of familiarity, lightness, and simplicity that we have cultivated with the Meow remains unchanged. You can play without being restricted by categories.


MOVIE
※The video was shot on a prototype model. There are differences from the actual product. Please understand.
SIZE
WOOF16
Suitable for ages 7 and up
¥193,600(TAX)
Part Number:YB65-1160
WOOF20
Suitable for ages 9 and up
¥198,000(TAX)
Part Number:YB65-1200
※The tire size of WOOF16 is the same as that of ordinary 16-inch bicycles, but the tire size of WOOF20 is not compatible with the 20-inch tires of ordinary bicycles, because WOOF20 uses so-called "19-inch" tires with larger air volume, not compatible with 20" tires on standard bicycles.
48V
750W
40km/h
23kg
∞FUN
FEATURE
Two Dimensions
The greatest feature of WOOF is that it can be converted into motocross-like dimensions and trial-like dimensions. The motocross dimension has a longer wheelbase, caster is laid down, and the footpegs are closer to the front. It is suitable for riding at high speeds. Trial dimensions have a short wheelbase, raised caster, and footpegs closer to the rear. It is suitable for action riding such as front up. The conversion process can be completed in 5 to 10 minutes, so you can easily choose between the two depending on the park you are going to.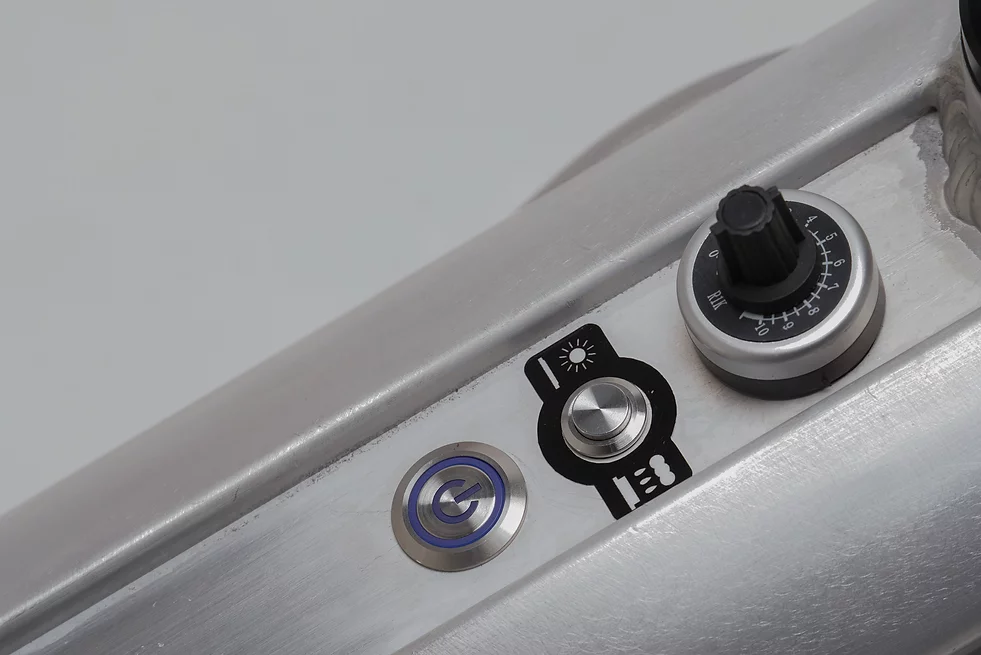 Stepless power adjustment.
While WOOF shows the powerful acceleration that only an electric bike can provide, we have not forgotten to take beginners into consideration. An adjustment dial allows you to adjust the maximum speed and acceleration at the same time. Even kids who are riding a bike for the first time can feel at ease. The maximum power is 40 km/h, but with the dial turned to the leftmost position, the speed is about 10 km/h, which is about the speed of a short ride.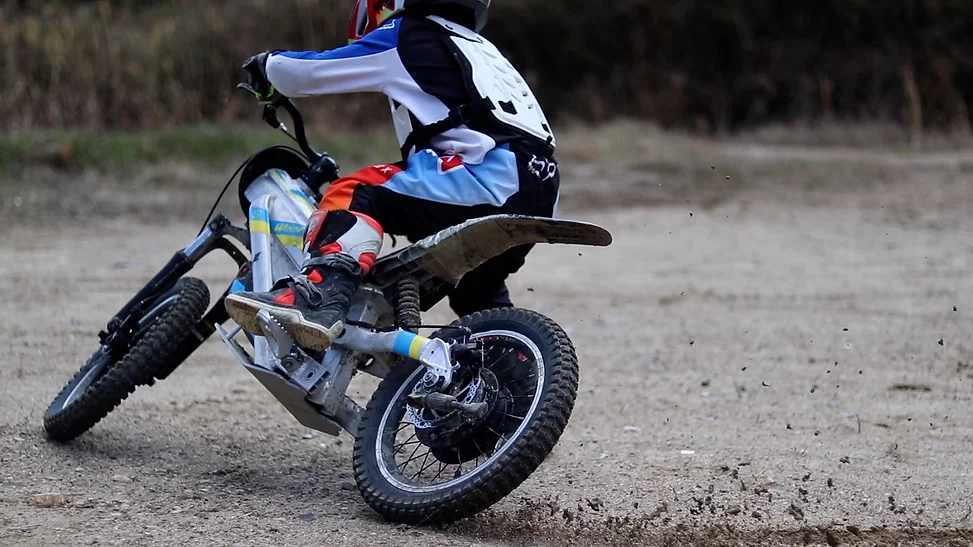 Sunny mode / Rainy mode
A switch allows you to switch between two different traction modes. The sunny mode provides full acceleration as it should and is intended for use on dry paved roads. The rain mode is adjusted for traction on wet pavement and off-road surfaces to provide a gentle start.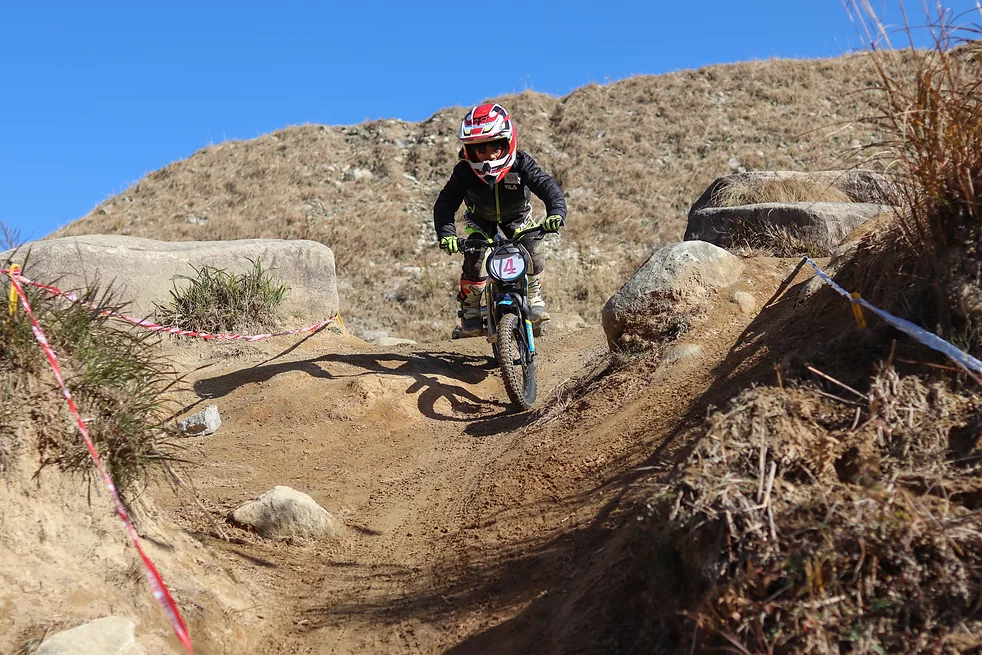 Lightweight Design
The aluminum frame and lithium battery make for a lightweight design weighing 24.5 kg for the WOOF 16 and 26.5 kg for the WOOF 20. This is about half the weight of an entry-level engine 50cc motorcycle. The light weight allows the user to easily tackle drastic terrain.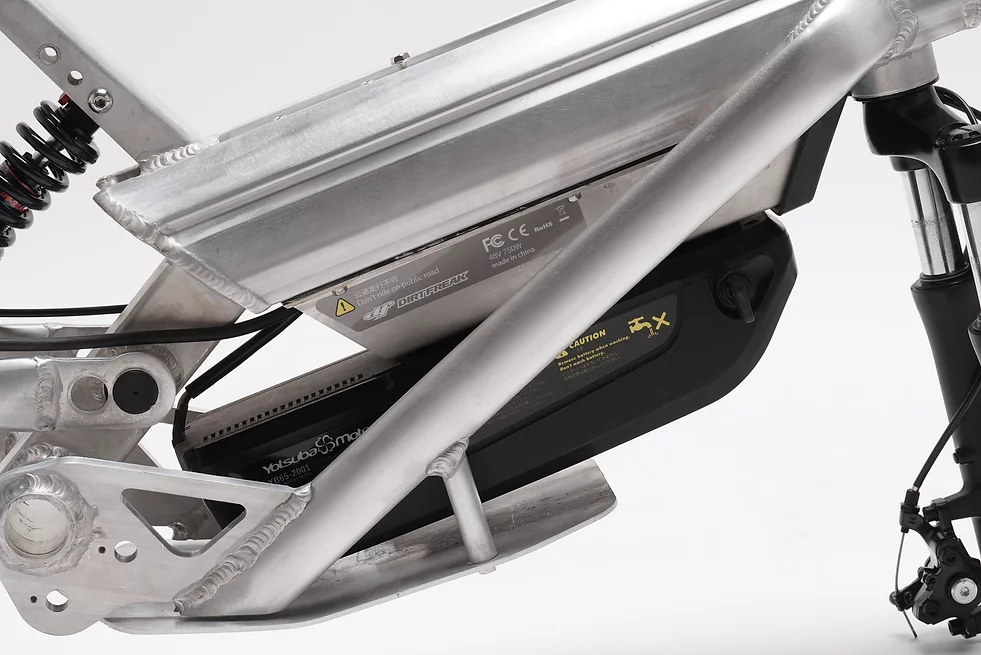 Easy battery replacement
Battery installation is a slide-in type. The battery can be replaced in a short time. The estimated continuous running time is about 1 hour in full power mode with a 60 kg rider. It will last almost a day for kids playing in the park, but it is very easy to use a spare battery just in case. Charging time is about 3 hours on a 100V household power supply.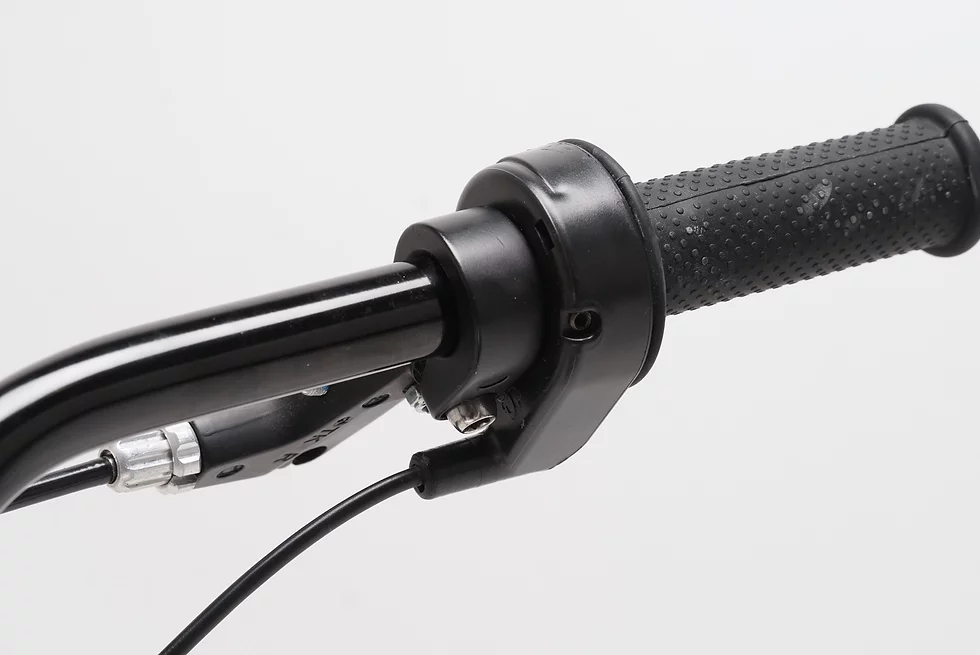 Small diameter throttle
The throttle is specially designed with a small diameter to fit small hands. This is a very special part developed for Yotsuba Moto. The grip size for adults is usually around φ31.5mm, but we have made it φ26.5mm for children. As with baseball bats, tennis rackets, and kendo shinai (bamboo swords), these are sports tools, so it is very important that they fit the size of the hand first. The brake levers are also chosen to be the same size as those for children.
In-wheel motor
Like Meow, the in-wheel motor eliminates the use of chains and sprockets, which are sharp rotating objects. This reduces the risk of injury from body or clothing entrapment in the event of a fall.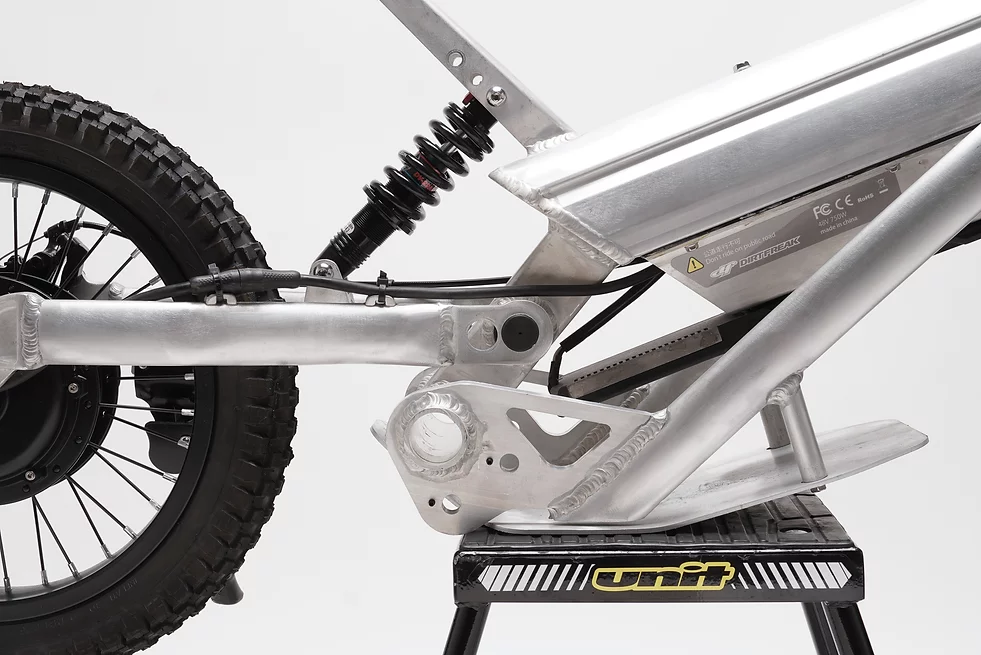 Under Guard
To protect the important battery, a sturdy 3 mm thick underguard is provided. The shape of the guard is designed so that the frontal impact escapes at an angle in the event of a collision when climbing over rocks or logs.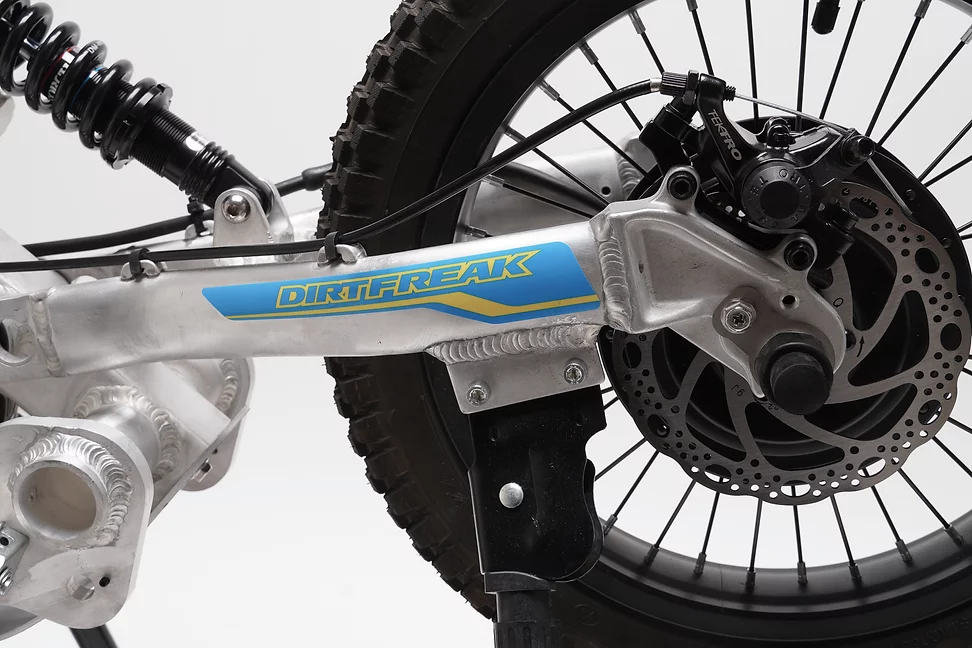 Suspension & Brakes
Suspension is provided front and rear, and both front and rear brakes are wired discs.
DECALS
Two colors of decals are included with WOOF. Aqua" for a tropical image. Navy" for a more sophisticated impression. A wide variety of numbers for numbers are also available.
WHERE TO RIDE??
Yotsuba Moto WOOF is a member of the competition motorcycle family by law, so it is not allowed to be ridden on roads or in parks. It must be ridden on private property or in dedicated parks. Currently, most of the parks are for motorcycles, but we expect to see more parks in urban areas and indoor parks, taking advantage of the characteristics of electric motorcycles, which have no exhaust emissions or exhaust noise.
KIDS'S RACE
JNCC is Japan's largest motorcycle cross-country race series, and one of its content is a race called FCX, which started in the 2018 season. The race is for up to 2nd grade elementary school students, and in addition to the 50cc bike class for children, there is also a class for Yotsuba Moto Meow. WOOF can participate in the PW class, a lower class for 50cc engine bikes, and although it is a compact race that lasts about 10 minutes, it is a great way for mom and dad to enter & watch the race, as well as a family vacation. In addition, more and more races around the country are also offering events that you can participate in with your Yotsuba moto. Event information is announced on each of Yotsuba Moto's social networking sites, so please be sure to follow us.
Array
SPEC
WOOF16
(Figures in parentheses are at trial dimension)
WOOF20
(Figures in parentheses are at trial dimension)

Overall Length
1365mm(1320mm)
1605mm(1570mm)
Overall width
60mm
60mm
Overall Height
790mm(805mm)
925mm(935mm)
Wheelbase
950mm(905mm)
1095mm(1060mm)
Seat Height
563mm(485mm)
610mm(525mm)
Minimum Ground Height
170mm(200mm)
215mm(245mm)
Caster Angle
26°(23°)
26°(23°)
Frame
AL6061
AL6061
Front suspension
Telescopic
Telescopic
Rear Suspension
Swing Arm
Swing Arm
Front brake
Wire disc type
Wire disc type
Rear brake
Wire disc type
Wire disc type
Tire size* (mm)※
16×2.4
20×2.5
Vehicle Weight
24.5kg
26.5kg
Motor
Brushless hub motor
Brushless hub motor
Battery
48V10Ah Lithium
48V10Ah Lithium
Rated output
750W
750W
Maximum output
1500W
1500W
Charging Time
3hours
3hours
Maximum Speed
40km/h
40km/h
Travel Time
60分
60分
Weight limit
55kg
55kg
Recommended
7 to 9 years old
From 9 years old
※Tire size notation is based on bicycle standards. Please note that this is different from the notation for motorcycles. Also, 20-inch tires are a somewhat special size, commonly known as 19-inch tires.